Rent Storage
Rent a storage unit online today. Just browse our available units below and then hit the "rent now" button. This will walk you through a 3 step process where you:
1. Create your account and agree to the terms.
2. Enter your billing information.
3. Review and Confirm the rental information.
Once you have completed these steps you will be emailed some instructions on moving in. Please contact us with any questions.

We do not give refunds on any monthly rental for a lease agreement terminated before the end of the month.
5.0x10.0x8.0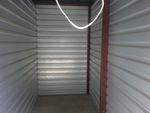 Small unit to store a few items including small furniture, mattress set and some boxes.
10.0x10.0x8.0
Best for one bedroom apartment
10.0x15.0x8.0
Fits a one bedroom apartment and appliances.
10.0x20.0x8.0
Fits a two bedroom apartment and appliances or a car.
10.0x25.0x8.0
Fits the furniture of a 3 or 4 bedroom house.
10.0x30.0x8.0
Fits the furniture of a 3 or 4 bedroom house.
15.0x15.0x8.0
Fits a lot of stuff. Has 10'3" door.
10.0x40.0x8.0
2 vehicles and or a lot of things
20.0x20.0x8.0
15.0x30.0x8.0
Outdoor car or very small boat parking (20.0x12.0)
Car or small boat space
Outdoor RV or Boat parking (30.0x12.0)
Medium RV Space
Covered RV, Trailer or Boat parking (32.0x12.0x13.0)
Large RV Space (40.0x12.0x20.0)
40 foot (or so) RV Space
Climate Controlled 5 x 10 (5.0x10.0x8.0)
Small climate controlled unit in warehouse.
Climate Controlled 10 x 15 (10.0x15.0x8.0)
Climate controlled 10 x 15 unit within warehouse
Climate Controlled 10 x 20 (10.0x20.0x8.0)
Climate Controlled 15 x 15 (15.0x15.0x8.0)
Climate controlled 15 x 15 unit within warehouse
Climate Controlled 10 x 25 (10.0x25.0x8.0)
Climate controlled 10 x 25 unit within warehouse
Garage (25.0x25.0x16.0)
Garage with work bench
W1 (50.0x50.0x16.0)
Warehouse
20.0x10.0x8.0
standard non-climate garage door
great for small house or 2/3 bedroom apt
W2 (50.0x50.0x16.0)
warehouse 14 ft door
cc tire racks (5.0x16.0x9.0)
inside storage
front car truck park in fence (10.0x10.0x20.0)